Three iPhone Apps that Beat Apple's Default Versions
As great as Apple software is, we've all benefited from dozens of iPhone and other iOS applications that overshadow or completely replace some of Apple's default apps on our mobile devices. For whatever reason, Apple seems reluctant to upgrade its mobile apps until several versions later. But luckily, smart, enterprising developers fill the gaps. Let's explore three useful time-saving apps I've been using on my iPhone.

Instacast
At the top of my list is the podcast player app, Instacast ($1.99). Before I discovered this app, I would have to do a search on the iTunes Music Store for the podcasts I wanted to stream to my iPhone. I rarely make a wired connection to my iTunes library to download songs or podcasts to my iPhone. It's too time consuming and I don't like adding temporary files to my devices. Streaming podcasts directly from the iTunes Store is like waiting in the grocery store to buy one little item.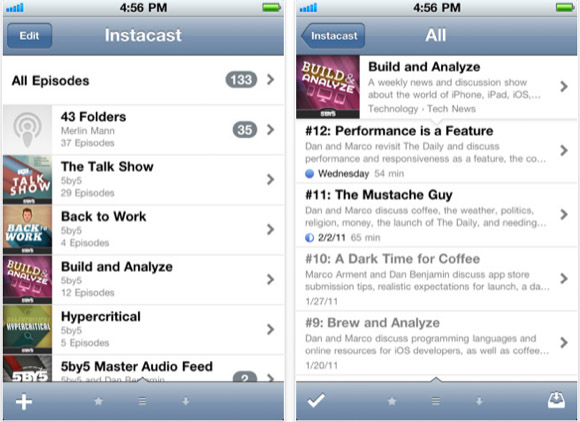 With Instacast, streaming or downloading podcasts to your iPhone is like doing quick self-checkout. You can search for and subscribe to as many podcasts as you like without eating up precious memory. You can listen to podcasts over Wi-Fi and 3G, and each episode includes show descriptions if provided by the producer.

You can also preload episodes at home, saving your mobile bandwidth when you're out and about on your commute. Furthermore, if a podcast is not streaming well, simply download it to your device and delete after you have listened to it. All this can be done from within Instacast.

The app is easy to use, but it took me more than a few minutes to figure that you need to swipe down the homepage of the app in order to update subscriptions. Updates are quick, and the app is 20 times faster than searching and streaming on the iTunes Store.

PhotoSync
Like I said before, the only time I might connect my iOS devices to my computer is when I'm doing a system upgrade. I always prefer making wireless connections whenever possible. One of the challenging problems about taking photos with the iPhone is getting your images off the device. An app that makes this process easier is called PhotoSync ($1.99), which allows you to wirelessly transfer your photos and videos to and from your computer.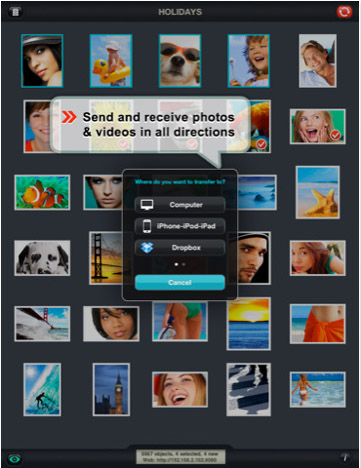 The network connection to my computer via PhotoSync worked automatically. The computer you connect to must have the local, free, desktop version of the PhotoSync installed. After launching PhotoSync on your mobile device, you simply select one or more photos or videos from your library and tap the sync buttons.

With the latest version of PhotoSync you can also transfer images and videos directly to your iPhoto or Aperture library, as well as to your Desktop and Flickr accounts. Seriously simple without all the wired mess. PhotoSync is a universal app, which means a single purchase of the app enables you to add it to your iOS devices with extra costs.

Stash Pro
Another time-saving photo-related app that I like is Stash Pro ($3.99), which makes Apple's own Photo Library app seem amateurish, or at least in bad need of an upgrade.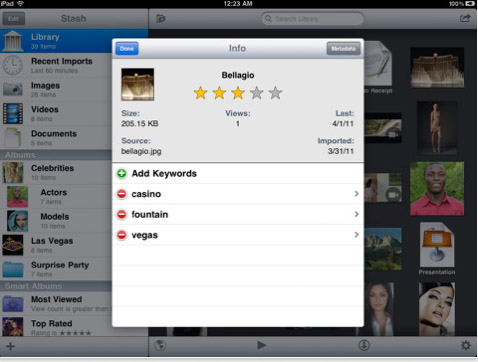 With Stash Pro, you can store and manage your photos on your iOS device into albums, as well download images directly from the Internet. The latest version of Stash Pro includes a built-in web browser, so now you can do direct download of images from the web directly from within the application.

Stash Pro includes advance features for adding titles, keywords, and ratings to your photos. (Apple, do you know about his app?) You can set up smart albums, similar to how it's done in iPhoto. So if you, for example, you rate your photos, you can create a smart album that will collect say all your 5-star rated images. You can also present your photos in the slideshow viewer.

If this is not enough, Stash Pro also provides private browsing of your library. You can discreetly stash photos behind a library of other photos. Libraries can be passcode protected.

Images and videos can also be exported wirelessly to and from Stash Pro via a web address. I'm not a big fan of this method, but it's sure faster than making a wired connection.

If you keep lots of images and videos on your iOS devices, you should definitely check out Stash Pro.